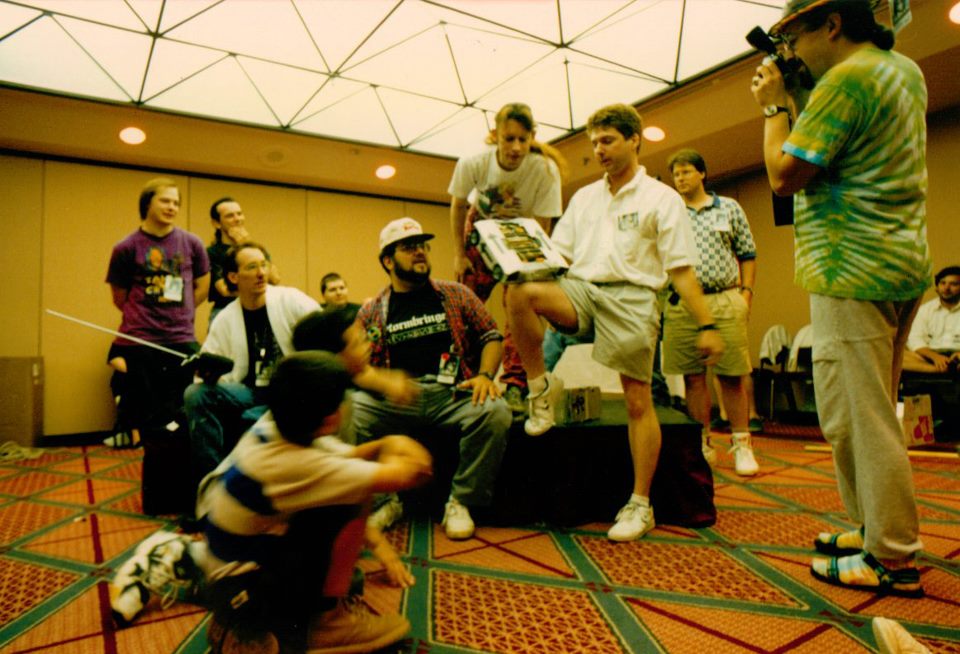 There have been many articles and books written over the years trying to untangle the murky pre-history of robotic combat in the United States. Many people trace the roots back to engineering competitions at MIT, CalTech and other universities in the 1970's, while others look to the San Francisco performance artists of the 1980's and their monstrous mechanical creations. For most enthusiasts, though, their first exposure to the sport was in 1994 when Marc Thorpe organized the first Robot Wars competitions in San Francisco.

But Thorpe was far from being the first. In fact, it was eight years earlier in Denver that the seeds of robotic combat were first sown. An engineer by the name of Bill Llewellyn got together with a group of like-minded friends and formed the "Denver Mad Scientists Club" and organized a competition where people constructed autonomous robots to complete a simple race. He called it the "Critter Crawl" and it was met with great interest.

As Bill recalls, "Everyone came up to us afterwards and said that as cool as the event was, it would be so much cooler if the robots actually fought each other."

So, in 1987, Bill and his mad scientist cohorts developed a simple set of rules for cable and RC-controlled robots and launched the very first "Critter Crunch" at the MileHiCon science fiction convention. The event has been held at the convention every year since, making it easily the oldest and longest-running robotic combat event in the world. But the story doesn't end there. In fact, it takes a strange—and decidedly southern—twist when in 1991, a disc jockey by the name of Kelly Lockhart got a copy of the rules and talked it over with the then chairman of the Dragon*Con science fiction convention to see if they thought it would be possible to stage a similar event in Atlanta, Georgia.

They decided to go for it, had the rules published in a convention flyer, and then set aside a clear space near the loading docks of the Atlanta Hilton & Towers hotel for the competitors that showed up to fight. Two showed, and they fought their robots against each other until one could no longer function. Even with just two robots, a crowd of nearly 200 watched the action and wanted to know how they could get involved the next year. And thus "Robot Battles" was born.

The following year, the event was moved to a ballroom with a sumo-style stage set-up (which is used to this day) and an even-dozen competitors showed up to compete in front of an audience over twice as large as the year before. Intrigued by the response of both Robot Battles and what Marc Thorpe was doing out west in San Francisco, in 1994 Thorpe was invited to Dragon*Con to co-host the event with Lockhart. While the Robot Wars events were on a much larger scale, Thorpe appreciated the enthusiasm that the Robot Battles competitors brought to the event. So much so that he returned to Atlanta in 1995 to co-host the competition for a second year.

1996 was the first year that Lockhart started his tradition of wearing his signature bizarre costumes on stage as he hosts the event. Over the years, audiences have been subjected to everything from full Roman Centurion dress armor to the skinniest Elvis impersonator they've ever seen to Monty Python's "Spamalot" to a bizarre melding of Willy Wonka and The Joker. In fact, the only time Lockhart has not worn a costume on stage since 1996 was in 2009 when he was recovering from being accidentally knocked down a flight of stairs the night before by an intoxicated Klingon.

In 1997, Robot Battles moved from the Atlanta Hilton into a full theater complex in the Atlanta Apparel Mart, which coincided with a dramatic increase in attendance and participation. This can be directly linked to the spread of the Robot Wars publicity and several television shows that took a direct look at what Marc was doing in San Francisco. The following year, Robot Battles not only moved into a larger hall—the 800 person capacity Regency Ballroom of the Hyatt Regency Atlanta—but was also staged on a smaller scale at the January Chattacon convention in Chattanooga, Tennessee, marking the first time that the event had been held separate from Dragon*Con. The move into a larger facility and the continued spread of awareness about robotics sports made for a record event, with more robots and a larger crowd ever before.

But what really kicked off the growth and popularity of Robot Battles was when Battlebots debuted on Comedy Central in 2000, and the heretofore underground sport became a national obsession. Robot Battles responded by adding weight categories and reaching out to schools and universities to bring in new contestants, especially younger ones. The result was incredibly positive, and continues to this day. There are more teenage—and younger—contestants participating in Robot Battles than any other robotic combat event (not counting the FIRST events, obviously, since they are not considered robotic combat). And they are competing quite well. In fact, the current record for youngest tournament winner is nine years old, winning the 12 pound weight class in 2007 at North Carolina's StellarCon competition.

In addition to expanding weight categories, Robot Battles also began expanding from its Atlanta base in the early part of the decade. Coming full-circle to their roots in Denver, in 2003 Robot Battles came to the Denver Opus Fantasy Arts convention with assistance from Llewellyn and several other of the mad scientists. It was that year that Lockhart was granted full membership in the Denver Mad Scientists Club, something of which he is quite proud and finds very amusing to add to his resume. In 2009, Robot Battles moved even further south by hosting an event at the Orange County Convention Center in Orlando, Florida in February as part of the MegaCon convention, with a even larger turnout (both in audience and contestants) in 2010.

One of the more unusual aspects of Robot Battles that makes it stand out amongst the other competitions (aside from its longevity and sumo-style rule set) is the nature of how it is presented. Many longtime attendees refer to the event as a combination robotic competition and nightclub comedy act. There are many people who come to the events as much for the on-stage antics as for the competition itself.

Today, as we move into our third decade, Robot Battles is larger and more popular than ever before. Our most recent event in Atlanta (Robot Battles 67) had over thirty teams who brought along over 80 robots to compete in front of standing-room-only crowds of well over a thousand fans each day.

We look forward to see what happens in the future, and hope you'll be with us for the ride.