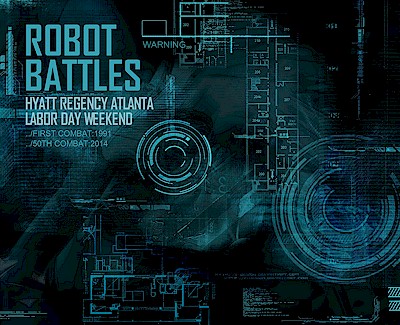 Since 1991, Robot Battles has been staging robotic combat competitions around the United States, with annual events currently held in Chattanooga, Tennessee at Chattacon, in Atlanta at DragonCon, and near Nashville, Tennessee at the Geek Media Expo. Past events have been staged events in Florida, Alabama, North Carolina and Colorado.
Robot Battles is one of the oldest continuously running robotic combat competitions in the world, and is a direct descendant of the oldest still running robotic event: the "Critter Crunch" held every year at MileHiCon in Denver.
So what makes Robot Battles different? Well, we don't have a TV show, we don't have supermodels, and we don't have huge cash prizes. What we do have is a creatively unique host, some of the most imaginative builders around, and the most involved audiences in the country.
SEPTEMBER UPDATE: Our next MicroBattles competition will be held Saturday, October 11th at the Chattanooga Mini Maker Faire at the First Tennessee Pavilion in Chattanooga, Tennessee. We are still confirming check-in/registration times and will post updates here and to both our Facebook page and Yahoo Group e-list.
Likewise, we are also waiting official confirmation from Geek Media Expo for Robot Battles 51 in Nashville the weekend of October 24-26 at the Franklin Marriott & Conference Center. This will be a MicroBattles event with a "for fun" 150g group for entertainment & educational purposes.
For full details and answers to any questions, please join our Robot Battles Yahoo Group or visit us on our Facebook page.