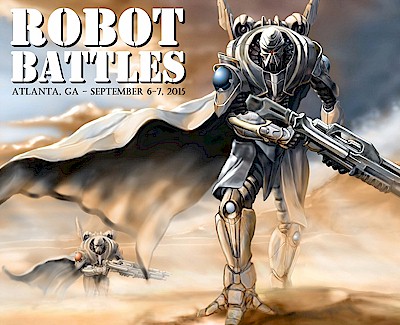 Robot Battles is one of the oldest continuously running robotic combat competitions in the world. We proudly trace our roots to the Denver Mad Scientists Club and are a direct descendent of the "Critter Crunch" robotic competition held every year at MileHiCon in Denver, which began back in 1987 (and is still going strong).
Since 1991, Robot Battles has been staging robotic combat competitions (mostly) around the United States, with annual events currently held in in Atlanta at DragonCon, in Nashville at the Geek Media Expo, and in Chattanooga at Chattacon and at the Chattanooga Mini-Maker Faire. We have also held past events in Alabama, Colorado, Florida, North Carolina and as far away as Barcelona, Spain.
Our next competition, Robot Battles 54, will be held at DragonCon in the Hyatt Regency Atlanta over the Labor Day Weekend. We will be staging two events: the Microbattles on Sunday, September 6 and the main event on Monday, September 7.
Microbattles involves the insect classes (ant and beetle) and will feature two arenas this year to keep the action flowing. The main event is for the 12 and 30 pound classes and will be the usual sumo-style competition. Registration will be handled on-site the day of each competition. To compete or attend each event, you will need at least a single-day membership to DragonCon (which is worth it, as it is a very cool convention). Contestant check-in begins approximately two hours before each event. When the event schedule is finalized, we'll update times and specific room locations here on the website.
So what makes Robot Battles different from other robotic events? Well, we don't have a TV show, we don't have supermodels, and we don't have huge cash prizes. What we do have is a creatively unique host, some of the most imaginative builders and designers in the sport, and the most involved audiences in the country (in our humble opinion). And, of course, lots and lots of intense one-on-one mechanical mayhem matches. Which is what it's all about. And what we live for.
If you are considering competing in Robot Battles for the first time, please review our rule set and keep in mind that safety is our first priority. If you have specific technical questions, email us here. For full details and answers to any other design or competition questions, please join our Robot Battles Yahoo Group or visit us on our Facebook page.